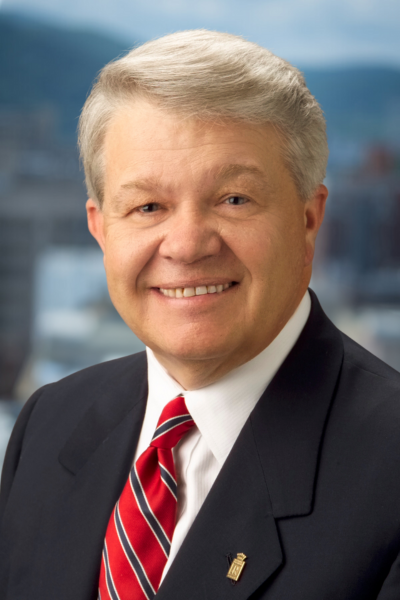 Dennis Cronk
CCIM,CIPS,CRE
Chairman/CEO
Dennis Cronk, a Roanoke native, is Chairman/CEO of Poe & Cronk Real Estate Group. The firm was co-founded by Mr. Cronk in 1987 and is known for its leadership role in serving the needs of their clients in the sale, leasing, management and development of commercial properties.
Since entering the real estate Profession, Mr. Cronk has continuously served a wide range of clients and customers including Fortune 100 companies, small family owned businesses and individuals in providing professional services. His personal experience includes sales, leasing and management of commercial, industrial, and investment properties in the value range of $10,000 to $30,000,000. He has gained valuable experience in serving buyers and sellers alike. In addition to serving as the firm's Principal Broker, Dennis has represented corporations and investors as a Fee Consultant in developing properties and determining the feasibility of projects.
Over the course of his career, Dennis served as the President of the National Association of REALTORS®, the world's largest trade association with a current membership in excess of 1.4 Million. He is also a Past President and REALTOR® of the Year of both the Roanoke Valley and Virginia Association of REALTORS®. and President of the Virginia Real Estate Education Foundation. Mr. Cronk was inducted into the Real Estate Hall of Fame by the Virginia Association of REALTORS®, and in 2009 he was inducted by the National Association of REALTORS® into the RPAC Hall of Fame for his extraordinary contributions to the real estate profession. In 2001 he was named as one of the 25 most influential people in Real Estate by a National Real Estate Publication.
Mr. Cronk served 12 years on the City of Roanoke Economic Development Authority including 5 Years as its Chairman. He also served 10 years as a member of the Virginia Western Community College Board of Directors including 2 years as its Chairman. The Governor of the Commonwealth of Virginia appointed Mr. Cronk to serve on the Board of Trustees of the Roanoke Higher Education Authority and the Virginia Recreational Facilities Authority.
In 2017 and 2018, The Virginia Business Magazine named Mr. Cronk to the list of Virginia's 50 Most Influential Virginians.
A little something about Dennis
"My day begins at 5AM at the gym and when time permits, playing a round of golf and traveling to faraway places."